To enrich the lives of children and teens experiencing homelessness by providing personalized birthday celebrations.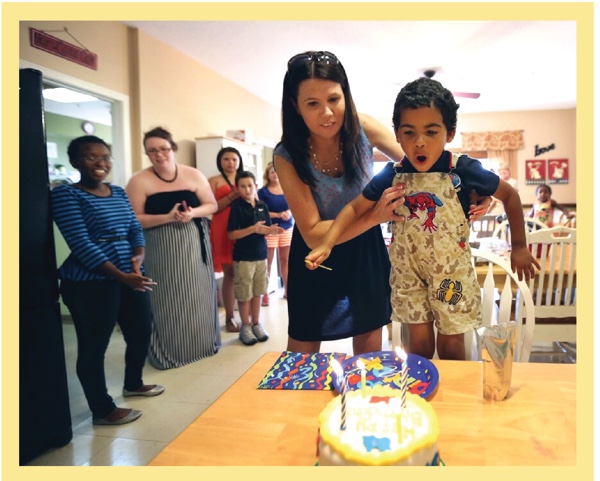 Sweet Celebrations began as an answer to a need that was realized by Shalei Taylor and myself in 2013. I became Shalei's Big Sister through the Big Brothers Big Sisters of Eastern Missouri in 2010. Nearing Shalei's 15th birthday, she and her family had lost their home and were living in shelters and motels.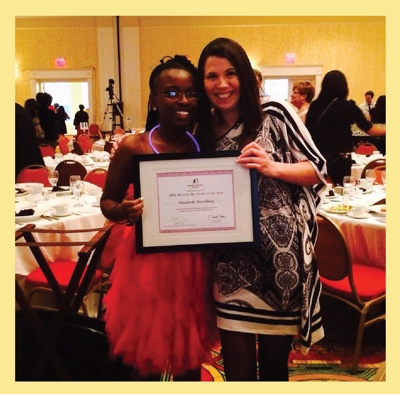 On the day of Shalei's 15th birthday, the family had nowhere to stay; the shelters were full and there were not any more funds to pay for a motel until the following week. The best solution available to them was to sleep in the family car, in the bitter cold. Shalei called me to share the devastating news. I told Shalei not to worry and that I would see her that evening for her birthday. After hanging up with Shalei, I quickly sent an SOS to my family and friends on Facebook, asking for help for shelter for Shalei and her family for the evening.
As luck would have it, I have some of the best friends and family and they immediately came together and donated funds to get Shalei and her family into temporary shelter. Many also recognized the importance of making sure Shalei's birthday was still celebrated by donating funds specifically for her birthday to be celebrated. That evening because of the generosity of my friends and family, my children and I were able to celebrate Shalei's 15th birthday and put her family in a motel for the week. But the generosity did not stop there! We were also able to raise enough money to help get Shalei and her family into permanent housing!
The following year as Shalei, and I were celebrating her 16th birthday we were reflecting on the importance of her 15th birthday. She was in a better positive place in her life where we were able to see her school grades improve dramatically, her warm smile returning that can light up any room and her feeling of security return. I asked what she attributed the dramatic change in the past year to, fully expecting her to say that it was having a home again. But she surprised me in sharing that it was her birthday celebration last year. Shalei shared that at that time last year she did not love herself very much; she was very depressed. But the love that was shared by strangers showed her strength to work to brighter days and to begin to love herself again!
When I heard her share the dramatic impact that a few strangers directly had over Shalei's life it gave me an idea—why not help other children experiencing homelessness a celebration of their birthdays? Together with the help of Shalei, my family and friends, Sweet Celebrations began!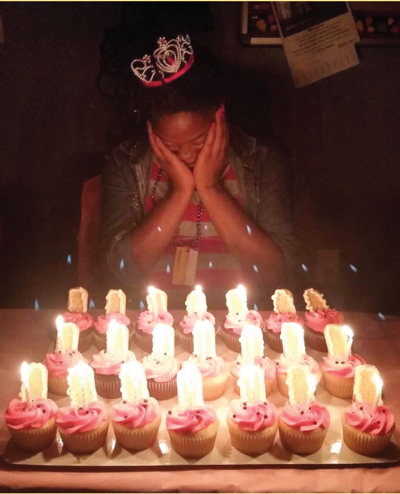 Homelessness is stressful for children and their families, and it has a profound impact on a child's emotional and physical well-being. With homelessness, families have to prioritize things needed to meet their basic survival needs, such as food and shelter. There is no budget for birthday parties or even presents.
Sweet Celebrations asserts that children need to celebrate their birthdays, especially during homelessness. Something as simple as a birthday celebration can make a huge impact on the child or teen and the family.
Recent studies show that children as young as two-and-a-half years of age often remember an event that made a positive impact in their lives. These celebrations truly are much more than a one day event. These celebrations help to give the child and family hope for the future while leaving a lasting, life-long impression.
Together with the support of families and the help of our devoted volunteers and valued donors, Sweet Celebrations instills in each of these children a very important concept–there are people who care. By sharing a little laughter, love, and kindness, we are reminded that by helping one another, all good things are possible.

Sweet Celebrations is a volunteer led 501(c)3 non-profit organization that began in November 2013.
Sweet Celebrations services the homeless community by providing personalized birthday celebrations for each child. The birthday parties include: themed party decor, a personalized birthday cake, ice cream, drinks, wrapped Birthday gifts from their wish list including a Build-A-Bear™ and a personalized Birthday shirt, birthday games and activities, and goody bags for all the birthday guests.

Ready to Celebrate? We'd love to hear from you.